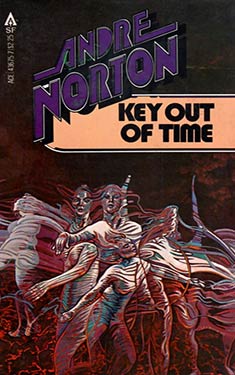 Synopsis
In the present day, Time Agents Ross and Gordon come with settlers to the water-dominated planet, Hawaika, to search remains of the alien Baldies from the distant past. Local intelligent dolphins assist them. While investigating, a time gate fails, destroying itself and stranding them widely in the unknown past.
The native dolphins and humans can communicate, and Ross learns Gordon is hostage in a castle through a native, Loketh. Ross and Loketh are captured by seafaring Rovers, then join them. They recover a Rover island captured by the Baldies. Ross convinces a coalition of natives the Baldies are playing them against one another. Ross finds Ashe at last, in a castle the company of the mystic and advanced Foanna, who turn out to be only three, the last of their race. The Foanna set a trap for the Baldies, using their assets as bait, but they cannot win against the whole force without increasing their numbers. Ross and Ashe agree to a process mentally joining them with the Foanna. A second encounter with the Baldies, they win. In a final encounter, Ross is teleported to a Baldy ship like the one familiar to him from Galactic Derelict, and sets its course to a random destination. The main Baldy installation is simultaneously attacked and the Baldies driven off the planet.
Excerpt
No excerpt currently exists for this novel. Be the first to submit one!

Submit an Excerpt
Reviews
Images
No alternate cover images currently exist for this novel. Be the first to submit one!