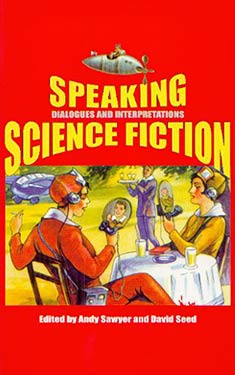 Speaking Science Fiction: Dialogues and Interpretations
Synopsis
This wide-ranging volume explores the various dialogues that flourish between different aspects of science fiction: academics and fans, writers and readers; ideological stances and national styles; different interpretations of the genre; and how language and 'voices' are used in constructing SF. Introduced by the acclaimed novelist Brian W. Aldiss, the essays range from studies of writers such as Robert A. Heinlein, who are considered as the "heart" of the genre, to more contemporary writers such as Jack Womack and J. G. Ballard.
Contents:
1 - Introduction (Speaking Science Fiction) - essay by Brian W. Aldiss
5 - Who Speaks Science Fiction? - essay by Andy Sawyer
11 - Science Fiction Dialogues - essay by David Seed
21 - Speaking of HomePlace, Speaking from SomePlace - essay by Candas Jane Dorsey
32 - Speaking Science Fiction - Out of Anxiety? - essay by Josef Nesvadba
40 - Science Fiction as Language: Postmodernism and Mainstream: Some Reflections - essay by José Manuel Mota
52 - 'Fantastic Dialogues': Critical Stories about Feminism and Science Fiction - essay by Helen Merrick
69 - Vicissitudes of the Voice, Speaking Science Fiction - essay by Roger Luckhurst
82 - 'A Language of the Future': Discursive Constructions of the Subject in A Clockwork Orange and Random Acts of Senseless Violence - essay by Veronica Hollinger
96 - Speaking the Body: The Embodiment of 'Feminist' Cyberpunk - essay by Bronwen Calvert and Sue Walsh
109 - Bodies that Speak Science Fiction: Stelarc - Performance Artist 'Becoming Posthuman' - essay by Ross Farnell
131 - Science Fiction and the Gender of Knowledge - essay by Brian Attebery
144 - Corporatism and the Corporate Ethos in Robert Heinlein's 'The Roads Must Roll' - essay by Farah Mendlesohn
158 - Convention and Displacement: Narrator, Narratee, and Virtual Reader in Science Fiction - essay by George E. Slusser and Danièle Chatelain [as by Danièle Chatelain and George Slusser ]
179 - Aphasia and Mother Tongue: Themes of Language Creation and Silence in Women's Science Fiction - essay by Nickianne Moody
188 - 'My Particular Virus': (Re-)Reading Jack Womack's Dryco Chronicles - essay by Andrew M. Butler
201 - Aliens in the Fourth Dimension - (1996) - essay by Gwyneth Jones
216 - Freefall in Inner Space: From Crash to Crash Technology - Simon Sellars - shortfiction by Simon Sellars
Excerpt
No excerpt currently exists for this novel. Be the first to submit one!

Submit an Excerpt
Reviews
There are currently no reviews for this novel. Be the first to submit one! You must be logged in to submit a review in the BookTrackr section above.
Images
No alternate cover images currently exist for this novel. Be the first to submit one!