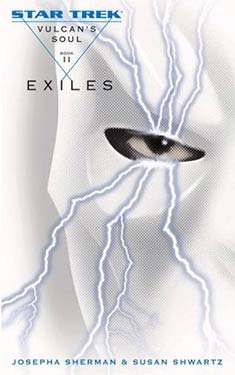 Synopsis
Following on from the events of Vulcan's Soul: Exodus, a bloody war is raging between the Romulans and the mysterious Watraii. Ambassador Spock, pursuing his dream of ending the centuries-old enmity between Romulus and Vulcan, must find and penetrate the home base of the Watraii, where long-hidden secrets that link this newly-discovered people to the ancient Vulcan race are finally revealed. Through masterful use of flashbacks to an earlier time in Vulcan civilization, Josepha Sherman and Susan Schwartz bring the history of Vulcan to life as never before in a stirring tale of explorers who took their chances amidst the cold and distant stars.
Tensions remain high as the United Federation of Planets, the Klingon Empire, and the Romulan Star Empire attempt to maintain their fragile post-Dominion War peace in the wake of the brutal attack by the mysterious Watraii that ended with the loss of Admiral Pavel Chekov. When Admiral Uhura receives intelligence regarding a Watraii base that may contain more than one surprise, she sends Ambassador Spock, Captain Saavik, Ruanek, Captain Montgomery Scott, and Lieutenant Commander Data on a covert mission to learn its secrets....
But the true secrets of the Watraii have their basis millennia in the past. In the time of Surak, Vulcans were at a crossroads, on the cusp of either embracing logic or succumbing to emotion and destroying themselves. With Surak's blessing, a group of Vulcans left their turbulent homeworld to find their destiny among the stars -- but the stars prove themselves even more unforgiving than the sands of Vulcan's deserts, as Karatek, the reluctant leader of the exiles, must struggle to hold the community together.
Excerpt
No excerpt currently exists for this novel. Be the first to submit one!

Submit an Excerpt
Reviews
There are currently no reviews for this novel. Be the first to submit one! You must be logged in to submit a review in the BookTrackr section above.
Images
No alternate cover images currently exist for this novel. Be the first to submit one!