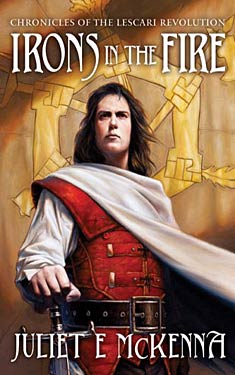 Synopsis
Lescar is a country mired in ancient grudges, with shifting ducal alliances persistently undermining any progress towards peace.
Those Lescari living in exile think they're helping by sending goods and money to their suffering kith and kin but that only sustains this on-going strife. Some exiles understand this, like the young scholars Tathrin and Aremil, in the distant city of Vanam.
Can they do anything to prompt change? Perhaps, if they can grasp the role of trade and finance in Lescar's wars, as explained by Gruit, the venerable wine merchant who fled Lescar in his youth. If they can make common cause with the likes of Reniack the rabble-rouser, who escaped just before his own dukes' militiamen hanged him.
Only if they can enlist the support of those Lescari nobles who turn to scholarship rather than risk politics, such as Lady Derenna. If they can contact those brave men and women still living in Lescar, who conspire to save the next generation from the worst of their own suffering.
Can magic be of any assistance, when the Archmage's edict forbids the use of wizardry in Lescar's wars, on pain of his extreme displeasure? But the elemental magics of air, earth, fire and water aren't the only enchantments in this world. There's Artifice, the ancient and subtle mental magic that intrigues some scholars. The Archmage has never claimed authority over that.
Scholarly debate is all very well but to turn such plans into action, they'll need soldiers and tactical information. Where will they find those?
Excerpt
No excerpt currently exists for this novel. Be the first to submit one!

Submit an Excerpt
Reviews
There are currently no reviews for this novel. Be the first to submit one! You must be logged in to submit a review in the BookTrackr section above.
Images
No alternate cover images currently exist for this novel. Be the first to submit one!