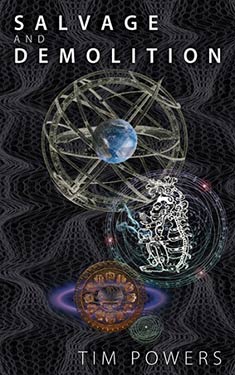 Synopsis
Richard Blanzac, a San Francisco-based rare book dealer, opens a box of consignment items and encounters the unexpected: there, among an assortment of literary rarities, he discovers a manuscript in verse, an Ace Double Novel, and a scattering of very old cigarette butts. These commonplace objects serve as catalysts for an extraordinary -- and unpredictable -- adventure.
Without warning, Blanzac finds himself traversing a "circle of discontinuity" that leads from the present day to the San Francisco of 1957. Caught up in that circle are an ancient Sumerian deity, a forgotten Beat-era poet named Sophie Greenwald, and an apocalyptic cult in search of the key to absolute non-existence.
One of the frequently referenced items in this story is an Ace Double published in, or just before, 1957 with Seconds of Arc on one side and What Vast Image on the flip side. Both stories are by Daniel Gropeshaw. Later in the story, we learn the author name is an anagram, and a pseudonym, for Sophia Greenwald. While Salvage and Demolition author Tim Powers often weaves his stories around established facts, Sophia Greenwald and her stories are apparently fictional.
Page 6 of the Subterranean Press edition has a black and white photograph of the contents of a cardboard box that includes a copy of the Ace Double Seconds of Arc by "Daniel Gropeshaw." The cover on the book shown in the photograph is the same as the one for the story A Man Called Destiny in the Ace Double D-311. The photograph also shows the book's spine with What Vast Image being visible as the other title, though the artist forgot to flip it. Page 13 describes the flip side of the fictional Ace Double as "green and yellow -- giant lizards chasing men in a jungle with What Vast Image in lurid lettering across the top." This description does not match the flip side of Ace D-311. Assuming it's not entirely fictional, the author may be describing the cover of The Mind Monsters on the Ace double G-602 or Eye of the Monster on the Ace Double F-147.
Excerpt
No excerpt currently exists for this novel. Be the first to submit one!

Submit an Excerpt
Reviews
Images
No alternate cover images currently exist for this novel. Be the first to submit one!