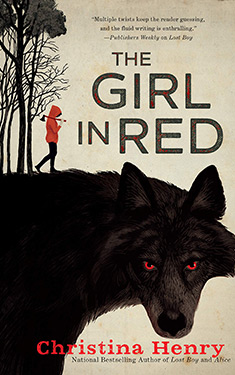 The Girl in Red
Author:
Christina Henry

Publisher:
Titan Books, 2019

Series:

This book does not appear to be part of a series. If this is incorrect, and you know the name of the series to which it belongs, please let us know.

Submit Series Details

Book Type:
Novel
Genre:
Fantasy
Sub-Genre Tags:
Awards:
Lists:
Links:
Avg Member Rating:

(4 reads / 3 ratings)
Synopsis
It's not safe for anyone alone in the woods. But the woman in the red jacket has no choice. Not since the Crisis came, decimated the population, and sent those who survived fleeing into quarantine camps that serve as breeding grounds for death, destruction, and disease. She is just a woman trying not to get killed in a world that was perfectly sane and normal until three months ago.
There are worse threats in the woods than the things that stalk their prey at night. Men with dark desires, weak wills, and evil intents. Men in uniform with classified information, deadly secrets, and unforgiving orders. And sometimes, just sometimes, there's something worse than all of the horrible people and vicious beasts combined.
Red doesn't like to think of herself as a killer, but she isn't about to let herself get eaten up just because she is a woman alone in the woods...
Excerpt
She hadn't asked the coyote to sit down and join her, and it was clear he didn't know what to do with himself. Red could see the shape of what he figured would happen on his face.
He'd thought she would be polite, that she would offer to share her space with him. He'd thought she would trust him, because she was alone and he was alone and of course people were pack animals and would naturally want to herd together. Then when her guard was down or maybe when she'd fallen asleep, he'd take what he wanted from her and leave. She was not following his script, and he didn't know how to improvise.
Well, Red's mother hadn't raised a fool, and she wasn't about to invite a coyote to sit down to dinner with her. She stirred the stew over the fire and determined that it was finished heating.
"That smells good," he said hopefully.
"Sure does," Red replied. She pulled the pot off the fire and poured some of the stew into her camp bowl.
"I haven't eaten a darn thing since yesterday," he said.
Red moved the bowl into her lap and spooned a tiny bit of stew, just a mouse bite, into her mouth. It was too soon to eat it and hot, far too hot, and it scorched her tongue. She wasn't going to be able to taste anything for a couple of hours after that, but she didn't show it. She only looked at him, and waited for whatever it was that he was going to do.
He narrowed his eyes then, and she glimpsed the predator he'd tried to disguise under a charm mask.
"Where I come from it's polite to share if you've got food and someone else doesn't," he said.
"You don't say."
She spooned up some more stew, never taking her eyes from him. She was going to lose what was in the pot in a minute when he charged at her, and she was sorry for it, for she was hungry and it wasn't easy to carry those cans of stew around.
He pulled out the gun then, the one he'd been pretending not to finger the whole time.
"Give me what's in your bag, bitch," he snarled, his lips pulling back from his teeth.
Red calmly put the bowl in her lap to one side. "No."
"Give it to me or I'll shoot you," he said, waving the gun in her general direction.
He thought he was being menacing, and it made her snort. He looked like a cartoon villain in a movie, a mangy excuse for a badass--the kind that threaten the hero when he walks through an alley and get thrashed for their trouble. She wasn't dumb enough to think that he couldn't hurt her, though. Even an idiot with a gun was dangerous.
"Are you laughing at me?" His face twisted in fury as he stepped closer.
He was coming around the side where she'd rested the pot, as she'd expected. He was afraid of the axe, though he didn't want to acknowledge it, so he was giving the bloodied blade a wide berth. That was fine by Red.
"What's the matter, bitch? Scared?" he cooed. He mistook her silence for fear, apparently.
She waited, patient as a fisherman on a summer's day, until he was within arm's length. Then she grabbed the pot handle and stood as fast as she could, using her real leg and her free arm for force to push upward and tapping her other leg down only for balance once she was on her feet.
The trouble with the prosthetic was that it didn't spring--Red didn't have a fancy blade that could perform feats of athleticism--but she'd figured out how to compensate using her other leg. She needed to prevent the coyote from killing her for her food.
Her sudden movement arrested him, his gaze flying to the axe that he'd expected her to grab. Red could have, she supposed, stayed right where she was on the ground and embedded the blade in his thigh, but that might have resulted in a protracted struggle and she didn't want a struggle.
The goal was not to have a fancy movie fistfight that looked good from every angle. She wanted him down. She wanted him done. She wanted him unable to grab her.
Red flung the rest of the boiling stew in his face. The intruder screamed, dropped his gun, and clawed at his skin. It blistered and bubbled, and she noticed she'd managed to hit one of his eyes. She didn't want to think about how horrible that felt because it looked like something awful. Red forced down the gorge that threatened at the smell of his burning flesh. She grabbed up the axe then and swung it into his stomach.
All the soft organs under his shirt gave away--she felt them squishing beneath the pressure of the blade, and hot blood spurted over her hands and then there was an even worse smell: the smell of what was supposed to be inside your body coming out, and she did cough then, felt the little mouse bite of her dinner coming back up mixed in with bile.
It stopped her throat and made her whole body heave. But Red wasn't about to let him get up again and come after her and so she pulled the axe straight across his torso before yanking it out. It made a squelching, sucking sound as it emerged. Red wasn't accustomed to that sound yet. No matter how many times she used the axe it made her skin crawl. The man (for that was all he was after all, just a man, not a coyote, not a hunter) fell toward her and she backed away as quick as she could, no fancy acrobatics involved. Red was not some movie superhero any more than the man was a movie villain. She was just a woman trying not to get killed in a world that didn't look anything like the one she'd grown up in, the one that had been perfectly sane and normal and boring until three months ago.
The man fell to the ground, and the blood seeped from the wound in his stomach. He didn't make any noise or twitch or anything dramatic like that, because he'd likely passed out once his brain was overwhelmed by the pain from his burn and the pain from the axe. He might live--unlikely, Red thought, but he might. He might die, and she was sorry not that she'd done it but that she had to do it.
Red didn't like to think of herself as a killer, but she wasn't about to let herself get eaten up just because she was a woman alone in the woods.
Copyright © 2019 by Christina Henry
Reviews
There are currently no reviews for this novel. Be the first to submit one! You must be logged in to submit a review in the BookTrackr section above.
Images
No alternate cover images currently exist for this novel.