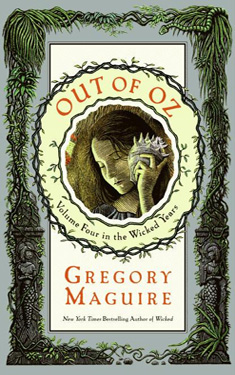 Synopsis
The stunning conclusion to the smash New York Times bestselling series the Wicked Years
Hailed as "bewitching," "remarkable," "extraordinary," "engrossing," "amazing," and "delicious," Gregory Maguire's Wicked Years series-a sophisticated fantasy cycle inspired by the classic children's novel The Wizard of Oz-became national bestsellers and the basis for a hit Tony-winning Broadway musical. Now, Maguire returns with the final installment in his transformative work, a thrilling and compulsively readable saga in which the fate of Oz is decided at last....
Once peaceful and prosperous, the spectacular Land of Oz is knotted with social unrest: The Emerald City is mounting an invasion of Munchkinland, Glinda is under house arrest, and the Cowardly Lion is on the run from the law. And look who's knocking at the door. It's none other than Dorothy. Yes. That Dorothy.
Yet amidst all this chaos, Elphaba's granddaughter, the tiny green baby born at the close of Son of a Witch, has come of age. Now it is up to Rain to take up her broom-and her legacy-in an Oz wracked by war.
The stirring, long-awaited conclusion to the bestselling series begun with Wicked, Out of Oz is a magical journey rife with revelations and reversals, reprisals and surprises-the hallmarks of the unique imagination of Gregory Maguire.
Excerpt
Chapter One
One of her earliest memories. Maybe her first, it was hard to tell, time was unstable then. Swimming through grass that came up as high as her underarms. Or it may have been new grain not yet roughened by summer. Late spring, probably. Her chin stroked by paintbrush tips of green. Sunk in the world, unable to feel anything but the magic of it. Unable to take part.
The field was as wide as the sky, while she was so low that she couldn't see over horizons of any sort. At a small clearing where (she later realized) a farmer's cart or plow might turn around, she came upon the skin of a mouse in the cropped and daisied grass.
The mouse pelt was still soft and almost warm. Supple, not leathery. As if some snake or owl had caught the creature and eaten it through a seam, blood and bones and little liver and all, but had tossed aside, nearly in one piece, the furry husk.
She had picked it up and dressed her forefinger with it, becoming Mouse. Quickening into Mouse. It had made her feel foreign to herself, and real. Realer. Then the feeling overwhelmed her and with a cry she shuddered the Mouse-shuck off her, away.
It disappeared into the grain. Immediately she loathed herself for cowardice and the loss of a magic thing, and she hunted for it until the memory had hardened into a notion of stupidity and regret.
She kept the memory and suffered the longing but never again was so real a Mouse, not for her whole life.
Copyright © 2011 by Gregory Maguire
Reviews
There are currently no reviews for this novel. Be the first to submit one! You must be logged in to submit a review in the BookTrackr section above.
Images
No alternate cover images currently exist for this novel. Be the first to submit one!