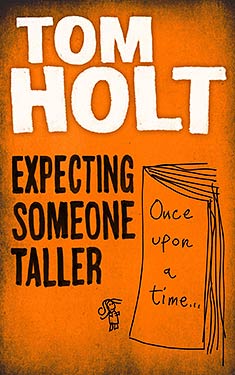 Synopsis
All Malcolm Fisher did was run over a badger. Unfortunately the badger turned out to be Ingolf, last of the giants. With his dying breath he reluctantly gave Malcolm two gifts of power and made him ruler of the world.
Excerpt
After a particularly unrewarding interview iwth his beloved, Malcolm was driving home along a dark, winding country lane when he rand over a badger. He stopped the car and got out to inspect the damage to his paintwork and (largely from curiosity) to the badger. It was, he decided, all he needed, for there was a small but noticeable dent in his wing, and he had been hoping to sell the car.
"Damn," he said aloud.
"So how do you think I feel?" said the badger.
Malcolm turned round quite slowly. He had had a bad day, but no so bad that he could face talking badgers - talking dead badgers - with equanimity. The badge rwas lying on its side, absolutely still. Malcolm relazed; he must have imagine it, or perhaps the bump had accidentally switched on the car radio. Any connection was possible between the confused chow mein of wires under his dashboard.
"You're not the one who's been run over," said the badger, bitterly.
This time, Malcolm turned round rather more quickly. There was a black and white corpse, lying across the road like a dead zebra crossing; yet he could have sworn that human speech had come from it. Was some rustic ventriloquist, possibly a Friend of the Earth, playing tricks on him?
He nerved himself to examine his victim. A dead badger, nothing more, nothing less; except that there was some sort of wire contraption wrapped round its muzzle - a homing device, perhaps, attached by a questing ecologist.
"Did you say something?" said Malcolm, nervously.
"So you're not deaf as well as blind," said the badger. "Yes, I did say something. Why don't you pay more attention when people talk to you?"
Malcolm felt rather embarrassed. His social equipment did not include formulae for talking to people he had just mortally wounded, or badgers, let alone a combination of the two. Nevertheless, he felt it incumbent upon him to say something, and his mind hit upon the word designed for unfamiliar situations.
"Sorry," he said.
"You're sorry," said the badger. "The hell with you."
There was a silence, broken only by the screech of a distant owl. After a while, Malcolm came to the conclusion that the badger was dead, and that during the collision he had somehow concussed himself without noticing it. Either that, or it was a dream. He had heard about people who fell asleep at the wheel, and remembered that they usually crashed and killed themselves. That did not cheer him up particularly.
"Anyway," said the badger, "what's your name?"
"Malcolm," said Malcolm. "Malcolm Fisher."
"Say that again," said the badger. "Slowly."
"Mal-colm Fi-sher."
The badger was silent for a moment. "Are you sure?" it said, sounding rather puzzled.
"Yes," said Malcolm. "Sorry."
"Well, Malcolm Fisher, let's have a look at you."
The badger twisted its head painfully round, and looked at him in silence for a while. "You know," it said at last, "I was expecting someone rather taller."
"Oh," said Malcolm.
"Fair-haired, tall, muscular, athletic, without spectacles," went on the badger. "Younger, but also more mature, if you see what I mean. Someone with presence. Someone you'd notice if you walked into a room full of strangers. In fact, you're a bit of a disappointment."
There was no answer to that, except Sorry again, and that would be a stupid thing to say. Nevertheless, it was irritating to have one's physical shortcomings pointed out quite so plainly twice in one evening, once by a beautiful girl and once by a dying badger. "So what?" said Malcolm, uppishly.
"All right," said the badger. "Sorry I spoke, I'm sure. Well, now you're here, you might as well get it over with. Though I'm not sure it's not cheating hitting me with that thing." And it waved a feeble paw at Malcolm's aged Renault.
"Get what over with?" asked Malcolm.
"Don't let's play games," said the badger. "You've killed me, you needn't mess me around as well. Take the Ring and the Tarnhelm and piss off."
"I don't follow," said Malcolm "What are you talking about?"
The badger jerked violently, and spasm of pain ran through its shattered body. "You mean it was an accident?" it rasped. "After nearly a thousand years, it's a bloody accident. Marvellous!" The dying animal made a faint gasping noise that might just have been the ghost of laughter.
Copyright © 1987 by Tom Holt
Reviews
Images
No alternate cover images currently exist for this novel. Be the first to submit one!