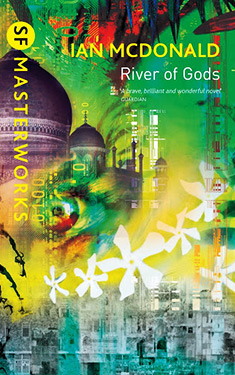 Synopsis
As Mother India approaches her centenary, nine people are going about their business: a gangster, a cop, his wife, a politician, a stand-up comic, a set designer, a journalist, a scientist, and a dropout. And so is Ajthe waif, the mind reader, the prophet, when she one day finds a man who wants to stay hidden.
In the next few weeks, they will all be swept together to decide the fate of the nation.
River of Gods teems with the life of a country choked with peoples and culturesone and a half billion people, twelve semi-independent nations, nine million gods. Ian McDonald has written the great Indian novel of the new millennium, in which a war is fought, a love betrayed, a message from a different world decoded, as the great river Ganges flows on.
Excerpt
No excerpt currently exists for this novel. Be the first to submit one!

Submit an Excerpt
Reviews
Images
Have you got a cover image that we don't have? Submit an alternate cover image for River of Gods here!