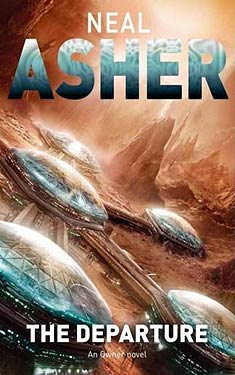 Synopsis
Earth
An overpopulated world is under the brutal, high-tech thumb of the Committee. Towering robot shepherds, pain-inducers, and reader guns maintain control over masses of zero-asset citizens, but for the elite this not enough. Twelve billion must human beings must die before the Earth can be stabilized, and the Argus satellite laser network is almost ready.
Waking in a crate destined for an incinerator, Alan Saul remembers only pain and his torturer's face. But he has company: Janus, a rogue AI inhabiting the forbidden hardware in his skull. Saul intends to stop Argus and get his revenge on the Committee–once he finds out who he used to be.
Mars
Abandoned by the Committee, the Antares Base faces extinction. The colonists there will not be returning to Earth nor will they be receiving any additional supplies or support. Unless they are very ingenious, they will run out of resources and be dead within five years.
As if that's not dire enough, Varalia Delex finds herself caught in a violent power struggle with the base's ruthless political officers–who see everyone else as expendable. As spilled blood turns the Red Planet even redder, Var discovers that Mars holds very new and interesting ways to die.
Excerpt
No excerpt currently exists for this novel. Be the first to submit one!

Submit an Excerpt
Reviews
Images
No alternate cover images currently exist for this novel. Be the first to submit one!