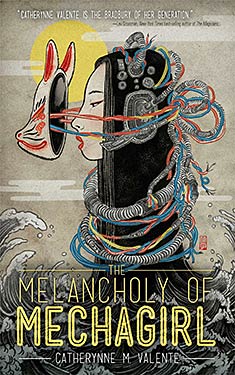 The Melancholy of Mechagirl
Author:
Catherynne M. Valente

Publisher:
Haikasoru, 2013

Series:

This book does not appear to be part of a series. If this is incorrect, and you know the name of the series to which it belongs, please let us know.

Submit Series Details

Book Type:
Collection
Genre:
Science-Fiction / Fantasy
Sub-Genre Tags:
Awards:
Lists:
Links:
Avg Member Rating:

(3 reads / 0 ratings)
Synopsis
A woman who dreams of machines. A paper lantern that falls in love. The most compelling video game you've never played and that nobody can ever play twice. This collection of Catherynne M. Valente's stories and poems with Japanese themes includes the lauded novella "Silently and Very Fast" and the award-nominated "Thirteen Ways of Looking at Space/Time," and "Ghost of Gunkanjima"--which originally appeared in a book smaller than your palm, published in a limited edition of twenty-four.
Also included are two new stories: the semiautobiographical metafictional, and utterly magical "Ink, Water, Milk" and the cinematic, demon-haunted "Story No.6."
Table of Contents:
Introduction - essay by Teruyuki Hashimoto
The Melancholy of Mechagirl - (2011) - poem
Ink, Water, Milk - shortfiction
Fifteen Panels Depicting the Sadness of the Baku and the Jotai - (2010) - shortfiction
Ghosts of Gunkanjima - (2005) - shortstory
Thirteen Ways of Looking at Space/Time - (2010) - shortstory
One Breath, One Stroke - (2012) - shortstory
Story No. 6 - shortfiction
Fade to White - (2012) - novelette
The Emperor of Tsukayama Park - (2005) - poem
Killswitch - (2007) - shortstory
Memoirs of a Girl Who Failed to Be Born from a Peach - (2005) - poem
The Girl with Two Skins - (2008) - poem
Silently and Very Fast - (2011) - novella
Afterword: The Melancholy of a Modern Girl, or, Love and Hegemony - (2013) - essay
Excerpt
From "Story No. 6"
It's not easy to find her.
You'll have to endure a great number of miserable, dusty basements and private, antiseptic vaults where no rot can reach. You'll have to handle- and I mean handle, for these collectors and archivists are of the most reticent, stuttering, anxious breed-men and women whose bloodless hands have permanently taken on the dry color of film preservatives. Your eyesight will be a friend and a traitor. It's good if you don't need too much sleep; she rewards vigilance. Sort through enough film-the old kind, the kind that comes on reels, that, like an exotic, perforated desert plant, hates air and moisture and the wrong sort of light-and you might see her hair disappearing behind a camphor tree in The Tale of Chibisuke the Midget, a bare foot glimmering like a lantern behind a screen in The Spell of the Sand Painting Part Two. Perhaps her face, whole and round and silver and black, in the palace scenes of The Water Magician. Thousands, if not millions, of people have seen her and not known her for what she is-only another exquisite, ancient face in the exquisite, ancient silent films, flickering, monochrome, the color of a lost world.
There is a Kami hiding in those old movies. Which is to say, a god.

Priests have of course been brought in on the case-only a fool does not involve the experts. None would admit that what they saw was of a divine nature. A beautiful woman, to be sure-a mouth so small and dark! Her hairline almost painful in its perfection. Disturbing, unquieting, the way she moves and seems to look out and directly into our eyes. But actresses are beautiful and disturb- ing; it is their job to be beautiful and disturbing. Beauty always reminds us of the divine, my child; that is its purpose.
Please consider contributing something extra to the upkeep of our shrine when next you visit.
A certain elderly former projectionist paid travel expenses and board to a Western guru in order that he should travel from Australia to view her reels in the secrecy of her Chiba City apartment. She ushered the man, who smelled expensive and educated, inside the cavern of her living space, its windows permanently blacked out, its humidity rigidly controlled. For hours they loaded film and watched images like silver water spill over a white silk screen. Two Quiet People, The Benten Kid, Samurai Town 2. The guru placed crystals around him and attuned himself to the energy of what his books called the ninth sphere.
Finally, in the second act of Scattered Flowers, they saw her: standing on her tiptoes to see over a long stone wall. Her eyes rose over the masonry like impossible moons. Then she blinked out of the film like a cue mark. The guru's mouth opened and then closed again. He did it a second time. His sound had been cut off too. But not for long.
Surely not one of the higher deities, he assured the projectionist. Not Ama-Terasu or Susano-no-Mikoto or Inari. Even if they would bother with something as ephemeral and trivial as cinema, the woman in the films bears none of their regalia. Perhaps Ama- no-Uzume-you say she often appears near flowers and trees?
Interesting, interesting. I think it's quite clear the figure is Hora-Sul, an emissary of the ninth sphere with whom I have long been in contact and special intimacy, mistress of amethyst and harbinger of the end of technofascist culture.
She is not Hora-Sul.
The trouble with the Kami is that she is not a repeatable phenomenon. You would think it would be no trouble to prove her being: look, here in the battle scene of The Master Sword Araki Mataemon, she is dying. And in the human chest the heart feels her wound. But the Kami is not an extra in a market scene that can be reliably pointed out to anyone with a quick eye for pattern recognition. One moment she is laughing with the traveling troupe of The Dancing Girl of Izu, the next she is dressed as a man in I Have Sinned, Sakubei. She is never in two films at once. You must chase her out of one frame into another, out of a moonlit peach grove and onto the decks of a naval vessel. You must know that face-as if you could ever forget it, as if it has not already replaced your mother's face, your childhood love's, even your own, in the cinema of your memory. You must search after that face, hunt for it, like a great flickering whale moving beneath the surface of the past.
She does not visit DVDs or VHS tapes. An Okinawa tailor claimed to have seen her once on a laser disc of Why Is Seawater Salty? but he is not a serious person. No, it is only film that the Kami enjoys, the way a lion enjoys blood and flesh, and not cabbages and china plates. Nor does she traffic with Western movies, nor even Korean or Chinese, but moves like a swift needle only through the ribbons of Japanese cinema. She leaves the film intact when she goes, though it is possible, for a frame or two after she has escaped like steam, to see a glimmer of phosphorus, fitful light from some distant and unknown source.
Copyright © 2013 by Catherynne M. Valente
Reviews
There are currently no reviews for this novel. Be the first to submit one! You must be logged in to submit a review in the BookTrackr section above.
Images
No alternate cover images currently exist for this novel. Be the first to submit one!