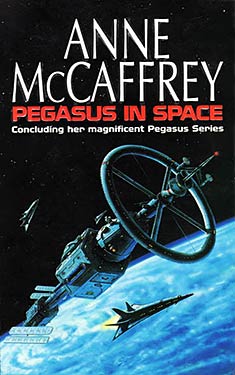 Synopsis
Peter Reidinger was the most brilliant and powerful telepath and telekinetic yet discovered on earth.He was also barely fifteen years old and a paraplegic who 'moved' his body through kinesis.When the telepaths of earth suspected a plot to take over Padrugoi, the newly manned space station, they realised they needed his unique gifts to foil the insane plans of Barchenka, the space construction manager, but even they didn't realise how strong were his abilities to 'read' the minds of those about him and move heavy loads over vast distances.
As his career progressed, so his talents increased beyond the dreams of those trying to reach out into space.Peter Reidinger was going to be the salvation of man's exploration of the stars.
And even as he became the most important man on earth, so his friendship with the tiny orphan girl found in the floods of Bangladesh grew and flourished.For Amariyah too had psychic gifts which no-one, at first, could define.But these 'special' people were constantly at risk - hated and feared by the avaricious, the evil and the ignorant, whose constant ambition was to destroy Peter Reidinger and those like him.
Excerpt
As Peter Reidinger was teleporting in gestalt with the huge Jerhattan Power Station to bring the kinetics down from Padrugoi Space Station to Dhaka, an exhausted group of men and women were trying to reach the shelter of the nearest shomiti. With the bundles they had snatched from their homes before escaping the breached levees, they staggered to higher ground along the muddy banks of the Jamuna River. They had to scramble to bridge the gaps in the levee mounds that, in places, were sliding into the Jamuna's torrent. Despite Herculean efforts by the government and the local administrators in the Rajshahi Division, the levees had not supplied the longed-for protection to those living along its banks.
Anger at the "authorities" consumed Zahid Idris Miah and sustained him as he slogged at the head of the group from his bari, flashing the long-life light ahead of him. In the gloom of this monsoon, the tool at least kept them from slithering into places where the Jamuna had chewed ravines into the levee bank in its rush to the sea. He devoutly mumbled prayers to Iswah that this tool was truly a "long-life" torch. He half expected it to fade out now, when it was most needed, like so many other items that came to his small bari south of Sir?ajganj as Rajshahi Division tried to--what was the ingraji word?--"upgrade" him and the other jute farmers.
They should have kept a close watch on the levees in this storm. They should have worked more diligently to reinforce the collecting lakes along the Jamuna River. They had promised to do so, to keep more of Bangladesh from sliding beneath the Bay. He vaguely knew that a great new engineering process that had kept some city in Italia from drowning had been adapted to keep the Bay of Bengal from inundating the coastal regions near the mouth of the Padma. Much land had been lost along the seacoast in spite of the efforts of many, very gifted engineers. The once inland city of Khulna was now protected by the great Dike, which had been erected three decades ago. Barisal City was also ringed south and east by the Ocean Dikes, invented by yet other westerners who had been determined to keep their land from drowning. Those islands that had once dotted the Bay of Bengal: Bhola, Hatiya, and Sondwip--where the Meghna River flowed into the Bay--had been inundated and the people saved only by the massive efforts of the World Relief Organization.
He had heard that the islands of Kutubdia and Maheskhali, near Cox's Bazar were also gone, and the tip of Chittagong. As Zahid had never been farther from his bari than Sir?ajganj, these places might as well have been in Great India or Meriki. What had happened to those who had helped before? Had they, like so many others, deserted the Bangla in their hours of need? He wiped the sudden spurt of wind-driven rain from his face. Were they tired of rescuing poor Bangladeshi? He wasn't surprised; who cared, but Iswah, what happened to the poor? The wind smacked at his lean, work-honed frame again and he slid on the mud, the light briefly aimed to his right.
Was that debris now bobbing along on the swift flowing current the plants he had struggled so to keep watered during the dry season? There was always too much of everything--Iswah be praised, he added quickly--when it wasn't needed. The Jamuna had irrigated his fields but this was overdoing it.
"Where be those who aid? Curses be on their names and every generation of them!" Zahid roared above the wind, waving about both hands, making the torchlight stab about the darkness.
Behind him, Jamila wailed, berating her husband. "Do not wave our light about so! How am I seeing where to put my feet? If it falls from your hand, how will we be seeing where dry land is?" She had hiked up her sari, its sodden, muddy hem banging against her thin calves. He had already reprimanded her several times for her immodesty.
"Hush, woman. Rafiq and Rahim have torches. Watch your sari that you do not tempt Ayud Bondha." To emphasize his displeasure in her demeanor, he lengthened his stride, sweeping the ray of light in front of him to see where he was going. This disgruntled him more, for it might appear to her that he was heeding her complaint.
"How far to go now, Zahid?" Salma, Ayud Bondha's young wife, cried in ragged gasps. She had to shout above the wind noise. She was many months pregnant with her firstborn, and clumsy. Ayud was half carrying her, both of them slipping about in the thick mud.
Zahid didn't like Salma. As a young girl, she had been chosen from her village to go to the school to learn to read and write and do sums. Because of that, she did not efface herself, as a proper woman should, speaking out often in the shomiti with unseemly disregard of custom. Ayud Bondha always indulged her, smiling and doing nothing to discipline her, as a husband should.
"We will be seeing shomiti lights soon," Zahid said and sent his beam ahead of them, squinting to see any glimmer from their destination. Shomiti were still built on heavy concrete pillars, thanks be to Iswah, so their shelter remained above the flooded lands. There would be light cylinders--also of the long-life variety--hung on the corners of the covered veranda to show refugees their way through the day's darkness, wind, and rain.
Copyright © 2000 by Anne McCaffrey
Reviews
There are currently no reviews for this novel. Be the first to submit one! You must be logged in to submit a review in the BookTrackr section above.
Images
No alternate cover images currently exist for this novel. Be the first to submit one!