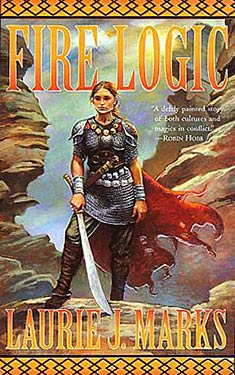 Synopsis
Earth. Air. Water. Fire.
These elements have sustained the peaceful people of Shaftal for generations, with their subtle powers of healing, truth, joy, and intuition.
But now Shaftal is dying.
The earth witch who ruled Shaftal is dead, leaving no heir. Shaftal's ruling house has been scattered and destroyed by the invading Sainnites. The Shaftali have mobilized a guerrilla army against these marauders, but every year the cost of resistance grows, leaving Shaftal's fate in the hands of three people:
Emil the Shaftali paladin: an officer and a scholar whose elemental powers make him an excellent judge of character;
Zanja the diplomat: the sole survivor of a slaughtered tribe, her fire powers bringing the gift of prescience;
Karis the metalsmith: a half-blood giant whose earth powers can heal and create, but only when she can muster the strength to hold off her addiction to a deadly drug that suspends her will.
Separately, all they can do is watch as Shaftal falls from prosperity into lawlessness and famine. If they can find a way to work together, they may just change the course of history.
In the tradition of Ursula K. Le Guin and Elizabeth Lynn, Laurie J. Marks weaves a complex tale of political and personal struggle, set in a world whose concerns are as familiar as today's headlines.
Excerpt
No excerpt currently exists for this novel. Be the first to submit one!

Submit an Excerpt
Reviews
Images
No alternate cover images currently exist for this novel. Be the first to submit one!