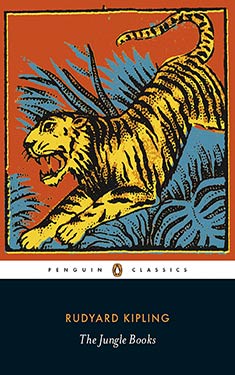 Synopsis
This is an omnibus edition of all the stories published in The Jungle Book and The Second Jungle Book.
The Jungle Books can be regarded as classic stories told by an adult to children. But they also constitute a complex literary work of art in which the whole of Kipling's philosophy of life is expressed in miniature. They are best known for the 'Mowgli' stories; the tale of a baby abandoned and brought up by wolves, educated in the ways and secrets of the jungle by Kaa the python, Baloo the bear, and Bagheera the black panther. The stories, a mixture of fantasy, myth, and magic, are underpinned by Kipling's abiding preoccupation with the theme of self-discovery, and the nature of the 'Law'.
Table of Contents:
Mowgli's Brothers - shortstory
Hunting-Song of the Seeonee Pack - poem
Kaa's Hunting - shortstory
Road-Song of the Bandar-Log - poem
'Tiger! Tiger!' - shortstory
Mowgli's Song - poem
The White Seal - shortstory
Lukannon - poem
Rikki-Tikki-Tavi - shortstory
Darzee's Chaunt - poem
Toomai of the Elephants - shortstory
Shiv and the Grasshopper - poem
Her Majesty's Servants - shortstory
Parade-Song of the Camp Animals - poem
How Fear Came - shortstory
The Law of the Jungle - poem
The Miracle of Purun Bhagat - shortstory
A Song for Kabir - poem
Letting In the Jungle - shortstory
Mowgli's Song Against People - poem
The Undertakers - shortstory
A Ripple Song - poem
The King's Ankus - shortstory
The Song of the Little Hunter - poem
Quiquern - shortstory
'Angutivaun Taina' - poem
Red Dog - shortstory
Chil's Song - poem
The Spring Running - shortstory
The Outsong - poem
Excerpt
No excerpt currently exists for this novel. Be the first to submit one!

Submit an Excerpt
Reviews
There are currently no reviews for this novel. Be the first to submit one! You must be logged in to submit a review in the BookTrackr section above.
Images
No alternate cover images currently exist for this novel. Be the first to submit one!