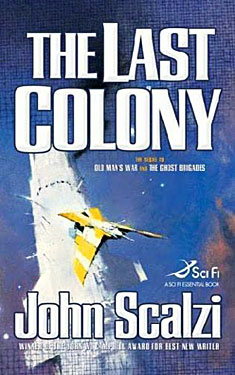 Synopsis
Retired from his fighting days, John Perry is now village ombudsman for a human colony on distant Huckleberry. With his wife, former Special Forces warrior Jane Sagan, he farms several acres, adjudicates local disputes, and enjoys watching his adopted daughter grow up.That is, until his and Jane's past reaches out to bring them back into the game--as leaders of a new human colony, to be peopled by settlers from all the major human worlds, for a deep political purpose that will put Perry and Sagan back in the thick of interstellar politics, betrayal, and war.
Excerpt
Chapter One
Let me tell you of the worlds I've left behind.
Earth you know; everyone knows it. It's the birthplace of humanity, although at this point not many consider it our "home" planet - Phoenix has had that job since the Colonial Union was created and became the guiding force for expanding and protecting our race in the universe. But you never forget where you come from.
Being from Earth in this universe is like being a small-town kid who gets on the bus, goes to the big city and spends his entire afternoon gawking at all the tall buildings. Then he gets mugged for the crime of marveling at this strange new world, which has such things in it, because the things in it don't have much time or sympathy for the new kid in town, and they're happy to kill him for what he's got in his suitcase. The small-town kid learns this fast, because he can't go home again.
I spent seventy-five years on Earth, living mostly in the same small Ohio town and sharing most of that life with the same woman. She died and stayed behind. I lived and I left.
The next world is metaphorical. The Colonial Defense Forces took me off Earth and kept the parts of me they wanted: my consciousness, and some small part of my DNA. From the latter they built me a new body, which was young and quick and strong and beautiful and only partially human. They stuffed my consciousness inside of it, and gave me not nearly enough time to glory in my second youth. Then they took this beautiful body that was now me and spent the next several years actively trying to get it killed by throwing me at every hostile alien race it could.
There were a lot of those. The universe is vast, but the number of worlds suitable for human life is surprisingly small, and as it happens space is filled with numerous other intelligent species who want the same worlds we do. Very few of these species, it seems, are into the concept of sharing; we're certainly not. We all fight, and the worlds we can inhabit swap back and forth between us until one or another gets a grip on it so tight we can't be pried off. Over a couple of centuries, we humans have managed this trick on several dozen worlds, and failed this trick on dozens more. None of this has made us very many friends.
I spent six years in this world. I fought and I nearly died, more than once. I had friends, most of whom died but some of whom I saved. I met a woman who was achingly like the one I shared my life with on Earth, but who was nevertheless entirely her own person. I defended the Colonial Union, and in doing so I believed I was keeping humanity alive in the universe.
At the end of it the Colonial Defense Forces took the part of me that had always been me and stuffed it into a third and final body. This body was young, but not nearly as quick and strong. It was, after all, only human. But this body would not be asked to fight and die. I missed being as strong as a cartoon superhero. I didn't miss every alien creature I met trying very hard to kill me. It was a fair trade.
The next world is likely unknown to you. Stand again on Earth, our old home, where billions still live and dream of the stars. Look up in the sky, at the constellation Lynx, hard by Ursa Major. There's a star there, yellow like our sun, with six major planets. The third one, appropriately enough, is a counterfeit of Earth: 96 percent of its circumference, but with a slightly larger iron core, so it has 101 percent of its mass (you don't notice that 1 percent much). Two moons: one two-thirds the size of Earth's moon, but closer than Luna, so in the sky it takes up the same amount of real estate. The second moon, a captured asteroid, is much smaller and closer in. It's in an unstable orbit; eventually it will tumble and fall into the planet below. Best estimate is this will happen in about a quarter of a million years. The natives are not terribly concerned at the moment.
This world was found by humans nearly seventy-five years ago; the Ealan had a colony there but the Colonial Defense Forces corrected that. Then the Ealan, shall we say, checked the math on that equation and it was another couple of years before it was all sorted out. When it was, the Colonial Union opened the world to colonists from Earth, mostly from India. They arrived in waves; the first one after the planet was secured from the Ealan, and the second shortly after the Subcontinental War on Earth, when the Occupation-backed probationary government offered the most notable supporters of the Chowdhury regime the choice of colonization or imprisonment. Most went into exile, taking their families with them. These people didn't so much dream of the stars as had them forced upon them.
Given the people who live on the planet, you would think it would have a name that reflects their heritage. You would be wrong. The planet is called Huckleberry, named no doubt by some Twain-loving apparatchik of the Colonial Union. Huckleberry's large moon is Sawyer; the small one is Becky. Its three major continents are Samuel, Langhorne and Clemens; from Clemens there is a long, curling string of volcanic islands known as the Livy Archipelago, set in the Calaveras Ocean. Most of the prominent features were dubbed in various aspects Twainania before the first settlers arrived; they seem to have accepted this with good grace.
Stand on this planet with me now. Look up in the sky, in the direction of the constellation Lotus. In it there is a star, yellow like the one this planet circles, around which I was born, two other lives ago. From here it is so far away as to be invisible to the eye, which is often how I feel about the life I lived there.
My name is John Perry. I am eighty-eight years old. I have lived on this planet for nearly eight years now. It is my home, which I share with my wife and my adopted daughter. Welcome to Huckleberry. In this story, it's the next world I leave behind. But not the final one.
The story of how I left Huckleberry begins - as do all worthy stories - with a goat.
Savitri Guntupalli, my assistant, didn't even look up from her book as I came back from lunch. "There's a goat in your office," she said.
"Hmmmm," I said. "I thought we'd sprayed for those."
This got an upward glance, which counted as a victory as these things go. "It brought the Chengelpet brothers with it," she said.
"Crap," I said. The last pair of brothers who fought as much as the Chengelpet brothers were named Cain and Abel, and at least one of them finally took some direct action. "I thought I told you not to let those two in my office when I wasn't around."
"You said no such thing," Savitri said.
"Let's make it a standing order," I said.
"And even if you had," Savitri continued, setting down her book, "this assumes that either Chengelpet would listen to me, which neither would. Aftab stomped through first with the goat and Nissim followed right after. Neither of them so much as looked in my direction."
"I don't want to have to deal with the Chengelpets," I said. "I just ate."
Savitri reached over to the side of the desk, grabbed her wastebasket and placed it on top of her desk. "By all means, vomit first," she said.
I had met Savitri several years before while I was touring the colonies as a representative of the Colonial Defense Forces, talking it up to the various colonies I was sent to. At the stop in the village of New Goa in the Huckleberry colony, Savitri stood up and called me a tool of the imperial and totalitarian regime of the Colonial Union. I liked her immediately. When I mustered out of the CDF, I decided to settle in New Goa. I was offered the position of village ombudsman, which I took, and was surprised on the first day of work to find Savitri there, telling me that she was going to be my assistant whether I liked it or not.
"Remind me again why you took this job," I said to Savitri, over the wastebasket.
"Sheer perversity," Savitri said. "Are you going to vomit or not?"
"I think I'll keep it in," I said. She grabbed the wastebasket and set it in its former position, and then picked up her book to resume reading.
I had an idea. "Hey, Savitri," I said. "Want my job?"
"Sure," she said, opening her book. "I'll start right after you finish with the Chengelpets."
"Thanks," I said.
Savitri grunted. She had returned to her literary adventures. I steeled myself and walked through the door of my office.
The goat in the middle of the floor was cute. The Chengelpets, sitting in the chairs in front of my desk, were less so.
"Aftab," I said, nodding to the older brother. "Nissim," I said, nodding to the younger. "And friend," I said, nodding to the goat. I took a seat. "What can I do for you this afternoon?"
"You can give me permission to shoot my brother, Ombudsman Perry," Nissim said.
Copyright © 2007 by John Scalzi
Reviews
Images
No alternate cover images currently exist for this novel. Be the first to submit one!