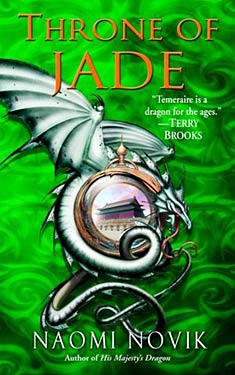 Synopsis
This is the second installment of a series set in an alternate universe where intelligent dragons are employed by the military to fight the Napoleonic War. In the previous volume, HIS MAJESTY'S DRAGON, Captain Will Laurence of the British navy captured a highly prized Chinese dragon egg intended for Napoleon himself, and, when it hatched, bonded with the new dragon, Temeraire.
Now, the Chinese Emperor, perceiving Temeraire's association with a mere captain as an insult, has sent an embassy demanding that Temeraire return to China. As the dragon-human pair refuse to be parted, the two embark on the lengthy sea voyage to China, where a delicate and dangerous diplomatic mission awaits them.
Excerpt
Chapter 1
The day was unseasonably warm for November, but in some misguided deference to the Chinese embassy, the fire in the Admiralty boardroom had been heaped excessively high, and Laurence was standing directly before it. He had dressed with especial care, in his best uniform, and all throughout the long and unbearable interview, the lining of his thick bottle-green broadcloth coat had been growing steadily more sodden with sweat.
Over the doorway, behind Lord Barham, the official indicator with its compass arrow showed the direction of the wind over the Channel: in the north-northeast today, fair for France; very likely even now some ships of the Channel Fleet were standing in to have a look at Napoleon's harbors. His shoulders held at attention, Laurence fixed his eyes upon the broad metal disk and tried to keep himself distracted with such speculation; he did not trust himself to meet the cold, unfriendly gaze fixed upon him.
Barham stopped speaking and coughed again into his fist; the elaborate phrases he had prepared sat not at all in his sailor's mouth, and at the end of every awkward, halting line, he stopped and darted a look over at the Chinese with a nervous agitation that approached obsequity. It was not a very creditable performance, but under ordinary circumstances, Laurence would have felt a degree of sympathy for Barham's position: some sort of formal message had been anticipated, even perhaps an envoy, but no one had ever imagined that the Emperor of China would send his own brother halfway around the world.
Prince Yongxing could, with a word, set their two nations at war; and there was besides something inherently awful in his presence: the impervious silence with which he met Barham's every remark; the overwhelming splendor of his dark yellow robes, embroidered thickly with dragons; the slow and relentless tapping of his long, jewel-encrusted fingernail against the arm of his chair. He did not even look at Barham: he only stared directly across the table at Laurence, grim and thin-lipped.
His retinue was so large they filled the boardroom to the corners, a dozen guards all sweltering and dazed in their quilted armor and as many servants besides, most with nothing to do, only attendants of one sort or another, all of them standing along the far wall of the room and trying to stir the air with broad-paneled fans. One man, evidently a translator, stood behind the prince, murmuring when Yongxing lifted a hand, generally after one of Barham's more involved periods.
Two other official envoys sat to Yongxing's either side. These men had been presented to Laurence only perfunctorily, and they had neither of them said a word, though the younger, called Sun Kai, had been watching all the proceedings, impassively, and following the translator's words with quiet attention. The elder, a big, round- bellied man with a tufted grey beard, had gradually been overcome by the heat: his head had sunk forward onto his chest, mouth half open for air, and his hand was barely even moving his fan towards his face. They were robed in dark blue silk, almost as elaborately as the prince himself, and together they made an imposing façade: certainly no such embassy had ever been seen in the West.
A far more practiced diplomat than Barham might have been pardoned for succumbing to some degree of servility, but Laurence was scarcely in any mood to be forgiving; though he was nearly more furious with himself, at having hoped for anything better. He had come expecting to plead his case, and privately in his heart he had even imagined a reprieve; instead he had been scolded in terms he would have scrupled to use to a raw lieutenant, and all in front of a foreign prince and his reti- nue, assembled like a tribunal to hear his crimes. Still he held his tongue as long as he could manage, but when Barham at last came about to saying, with an air of great condescension, "Naturally, Captain, we have it in mind that you shall be put to another hatchling, afterwards," Laurence had reached his limit.
"No, sir," he said, breaking in. "I am sorry, but no: I will not do it, and as for another post, I must beg to be excused."
Sitting beside Barham, Admiral Powys of the Aerial Corps had remained quite silent through the course of the meeting; now he only shook his head, without any appearance of surprise, and folded his hands together over his ample belly. Barham gave him a furious look and said to Laurence, "Perhaps I am not clear, Captain; this is not a request. You have been given your orders, you will carry them out."
"I will be hanged first," Laurence said flatly, past caring that he was speaking in such terms to the First Lord of the Admiralty: the death of his career if he had still been a naval officer, and it could scarcely do him any good even as an aviator. Yet if they meant to send Temeraire away, back to China, his career as an aviator was finished: he would never accept a position with any other dragon. None other would ever compare, to Laurence's mind, and he would not subject a hatchling to being second-best when there were men in the Corps lined up six-deep for the chance.
Yongxing did not say anything, but his lips tightened; his attendants shifted and murmured amongst themselves in their own language. Laurence did not think he was imagining the hint of disdain in their tone, directed less at himself than at Barham; and the First Lord evidently shared the impression, his face growing mottled and choleric with the effort of preserving the appearance of calm. "By God, Laurence; if you imagine you can stand here in the middle of Whitehall and mutiny, you are wrong; I think perhaps you are forgetting that your first duty is to your country and your King, not to this dragon of yours."
"No, sir; it is you who are forgetting. It was for duty I put Temeraire into harness, sacrificing my naval rank, with no knowledge then that he was any breed truly out of the ordinary, much less a Celestial," Laurence said. "And for duty I took him through a difficult training and into a hard and dangerous service; for duty I have taken him into battle, and asked him to hazard his life and happiness. I will not answer such loyal service with lies and deceit."
"Enough noise, there," Barham said. "Anyone would think you were being asked to hand over your firstborn. I am sorry if you have made such a pet of the creature you cannot bear to lose him--"
"Temeraire is neither my pet nor my property, sir," Laurence snapped. "He has served England and the King as much as I have, or you yourself, and now, because he does not choose to go back to China, you stand there and ask me to lie to him. I cannot imagine what claim to honor I should have if I agreed to it. Indeed," he added, unable to restrain himself, "I wonder that you should even have made the proposal; I wonder at it greatly."
"Oh, your soul to the devil, Laurence," Barham said, losing his last veneer of formality; he had been a serving sea-officer for years before joining the Government, and he was still very little a politician when his temper was up. "He is a Chinese dragon, it stands to reason he will like China better; in any case, he belongs to them, and there is an end to it. The name of thief is a very unpleasant one, and His Majesty's Government does not propose to invite it."
"I know how I am to take that, I suppose." If Laurence had not already been half-broiled, he would have flushed. "And I utterly reject the accusation, sir. These gentlemen do not deny they had given the egg to France; we seized it from a French man-of-war; the ship and the egg were condemned as lawful prize out of hand in the Admiralty courts, as you very well know. By no possible understanding does Temeraire belong to them; if they were so anxious about letting a Celestial out of their hands, they ought not have given him away in the shell."
Yongxing snorted and broke into their shouting-match. "That is correct," he said; his English was thickly accented, formal and slow, but the measured cadences only lent all the more effect to his words. "From the first it was folly to let the second-born egg of Lung Tien Qian pass over sea. That, no one can now dispute."
It silenced them both, and for a moment no one spoke, save the translator quietly rendering Yongxing's words for the rest of the Chinese. Then Sun Kai unexpectedly said something in their tongue which made Yongxing look around at him sharply. Sun kept his head inclined deferentially, and did not look up, but still it was the first suggestion Laurence had seen that their embassy might perhaps not speak with a single voice. But Yongxing snapped a reply, in a tone which did not allow of any further comment, and Sun did not venture to make one. Satisfied that he had quelled his subordinate, Yongxing turned back to them and added, "Yet regardless of the evil chance that brought him into your hands, Lung Tien Xiang was meant to go to the French Emperor, not to be made beast of burden for a common soldier."
Laurence stiffened; common soldier rankled, and for the first time he turned to look directly at the prince, meeting that cold, contemptuous gaze with an equally steady one. "We are at war with France, sir; if you choose to ally yourself with our enemies and send them material assistance, you can hardly complain when we take it in fair fight."
Copyright © 2006 by Naomi Novik
Reviews
Images
No alternate cover images currently exist for this novel.