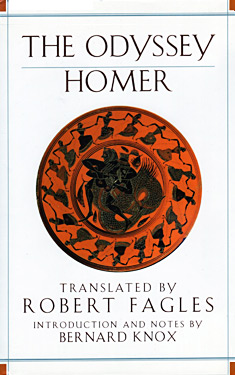 Synopsis
If the Iliad is the world's greatest war epic, the Odyssey is literature's grandest evocation of an everyman's journey through life. Odysseus' reliance on his wit and wiliness for survival in his encounters with divine and natural forces during his ten-year voyage home to Ithaca after the Trojan War is at once a timeless human story and an individual test of moral endurance.
In the myths and legends retold here, Fagles has captured the energy and poetry of Homer's original in a bold, contemporary idiom, and given us an Odyssey to read aloud, to savor, and to treasure for its sheer lyrical mastery. Renowned classicist Bernard Knox's superb introduction and textual commentary provide insightful background information for the general reader and scholar alike, intensifying the strength of Fagles's translation. This is an Odyssey to delight both the classicist and the general reader, to captivate a new generation of Homer's students.
Excerpt
I
Athene Visits Telemachus
Tell me, Muse, the story of that resourceful man who was driven to wander far and wide after he had sacked the holy citadel of Troy. He saw the cities of many people and he learnt their ways. He suffered great anguish on the high seas in his struggles to preserve his life and bring his comrades home. But he failed to save those comrades, in spite of all his efforts. It was their own transgression that brought them to their doom, for in their folly they devoured the oxen of Hyperion the Sun-god and he saw to it that they would never return. Tell us this story, goddess daughter of Zeus, beginning at whatever point you will.
All the survivors of the war had reached their homes by now and so put the perils of battle and the sea behind them. Odysseus alone was prevented from returning to the home and wife he yearned for by that powerful goddess, the Nymph Calypso, who longed for him to marry her, and kept him in her vaulted cave. Not even when the rolling seasons brought in the year which the gods had chosen for his homecoming to Ithaca was he clear of his troubles and safe among his friends. Yet all the gods pitied him, except Poseidon, who pursued the heroic Odysseus with relentless malice till the day when he reached his own country.
Poseidon, however, was now gone on a visit to the distant Ethiopians, in the most remote part of the world, half of whom live where the Sun goes down, and half where he rises. He had gone to accept a sacrifice of bulls and rams, and there he sat and enjoyed the pleasures of the feast. Meanwhile the rest of the gods had assembled in the palace of Olympian Zeus, and the Father of men and gods opened a discussion among them. He had been thinking of the handsome Aegisthus, whom Agamemnon's far-famed son Orestes killed; and it was with Aegisthus in his mind that Zeus now addressed the immortals:
"What a lamentable thing it is that men should blame the gods and regard us as the source of their troubles, when it is their own transgressions which bring them suffering that was not their destiny. Consider Aegisthus: it was not his destiny to steal Agamemnon's wife and murder her husband when he came home. He knew the result would be utter disaster, since we ourselves had sent Hermes, the keen-eyed Giant-slayer, to warn him neither to kill the man nor to court his wife. For Orestes, as Hermes told him, was bound to avenge Agamemnon as soon as he grew up and thought with longing of his home. Yet with all his friendly counsel Hermes failed to dissuade him. And now Aegisthus has paid the final price for all his sins."
Copyright © 1996 by Homer
Copyright © 1996 by Robert Fagles
Reviews
There are currently no reviews for this novel. Be the first to submit one! You must be logged in to submit a review in the BookTrackr section above.
Images
No alternate cover images currently exist for this novel. Be the first to submit one!