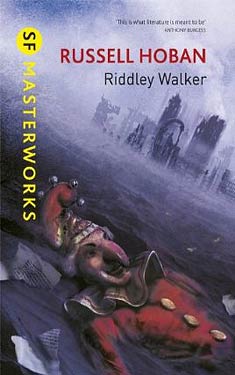 Synopsis
'Walker is my name and I am the same. Riddley Walker. Walking my riddels where ever theyve took me and walking them now on this paper the same. There aint that many sir prizes in life if you take noatis of every thing. Every time will have its happenings out and every place the same. Thats why I finely come to writing all this down. Thinking on what the idear of us myt be. Thinking on that thing whats in us lorn and loan and oansome.'
Composed in an English which has never been spoken and laced with a storytelling tradition that predates the written word, RIDDLEY WALKER is the world waiting for us at the bitter end of the nuclear road. It is desolate, dangerous and harrowing, and a modern masterpiece.
Excerpt
On my naming day when I come 12 I gone front spear and kilt a wyld boar he parbly ben the las wyld pig on the Bundel Downs any how there hadnt ben none for a long time befor him nor I aint looking to see none agen. He dint make the groun shake nor nothing like that when he come on to my spear he wernt all that big plus he lookit poorly. He done the reqwyrt he ternt and stood and clattert his teef and made his rush and there we wer then. Him on 1 end of the spear kicking his life out and me on the other end watching him dy. I said, "Your tern now my tern later." The other spears gone in then and he wer dead and the steam coming up off him in the rain and we all yelt, "Offert!"
The woal thing fealt jus that littl bit stupid. Us running that boar thru that las littl scrump of woodling with the forms all roun. Cows mooing sheap baaing cocks crowing and us foraging our las boar in a thin grey girzel on the day I come a man.
The Bernt Arse pack ben follering jus out of bow shot. When the shout gone up ther ears all prickt up. Ther leader he wer a big black and red spottit dog he come forit a littl like he ben going to make a speach or some thing til 1 or 2 bloaks uppit bow then he slumpt back agen and kep his farness follering us back. I took noatis of that leader tho. He wernt close a nuff for me to see his eyes but I thot his eye ben on me.
Coming back with the boar on a poal we come a long by the rivver it wer hevvyer woodit in there. Thru the girzel you cud see blue smoak hanging in be twean the black trees and the stumps pink and red where they ben loppt off. Aulder trees in there and chard coal berners in amongst them working ther harts. You cud see 1 of them in there with his red jumper what they all ways wear. Making chard coal for the iron reddy at Widders Dump. Every 1 made the Bad Luck go a way syn when we past him.
Copyright © 1980 by Russell Hoban
Reviews
Images
No alternate cover images currently exist for this novel.