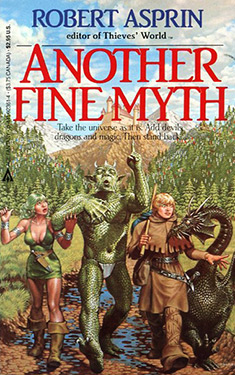 Synopsis
A Recipe for Myth-Adventure...
Skeeve is a magician's apprentice (and a wanna-be thief) until an assassin's bolt kills his master, Garkin. Along with Aahz, the green-scaled, purple-tongued demon and master magician summoned by Garkin, he sets out on a quest to get even. The road to vengeance is bound to prove rocky, however, because Skeeve can barely light a candle with his beginning magic, and Aahz has lost his own considerable magical abilities as a consequence of Garkin's summoning spell.
Before they can confront the power-mad wizard who ordered Garkin's assassination, they must survive a trip to a weird alternate dimension, encounters with Impish hit-men and a somewhat dull but persistent demon hunter who rides a friendly war unicorn, outwit a sharp-dealing Deevel, and deal with other uncanny enemies and even stranger friends... all without killing each other in the process!
Excerpt
The Green-Haired Lady...
"Relax, handsome," she purred. "You're about to get pounded for offending my honor. You might as well get a little of the sweet along with the bitter."
Before I could protest further, she kissed me. Long and warm and sweet, she kissed me.
I had never been kissed by anyone except my
mother. This was different! The fight, the dragon, Aahz, everything faded from my mind. I was lost in the wonder of that moment.
"Hey!"
A rough hand fell on my shoulder and pulled us apart. "Is this shrimp bothering you, lady?"
The person on the other end of that hand was no taller than I was, but he was twice as broad and had short, twisted tusks protruding from his mouth. His
cronies had fanned out behind him, effectively boxing me in against the dung-heap.
I looked at the girl. She shrugged and backed away. It looked like I was going to have to fight all of them. Me and the dragon. Terrific.
I remembered my skinning knife. It wasn't much, but it was all I had. As casually as I could, I reached behind me and tugged at my shirt, trying to pull it up so I could get at the knife.
The knife promptly fell down inside my pants.
The wrecking crew started forward.
Copyright © 1978 by Robert Lynn Asprin
Reviews
There are currently no reviews for this novel. Be the first to submit one! You must be logged in to submit a review in the BookTrackr section above.
Images
No alternate cover images currently exist for this novel. Be the first to submit one!