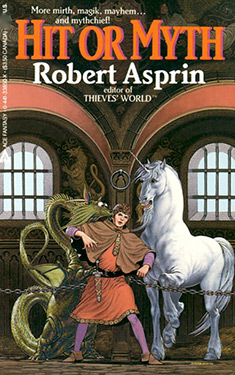 Synopsis
Identity Crisis...
Skeeve is just settling into his duties as Court Magician of Possiltum and his training as sorcerer's apprentice to Aahz, his scaly green demon mentor, when Aahz is suddenly called back to his home dimension on family business. Skeeve figures he can handle things on his own for a while, but then King Roderick convinces Skeeve to use his powers of illusion to take the king's place while Roderick takes a little "vacation."
That's when Hemlock, the ruthless, ambitious queen of a powerful neighboring nation, turns up to fulfill her part in an arranged marriage with Roderick. Skeeve realizes that Roderick has taken a powder, leaving the hapless magician in his place to marry his homicidal fiancée. As if dealing with a potential Black Widow isn't trouble enough, representatives of Skeeve's old nemesis, the Mob, show up. They're determined to find out what happened to Big Julie's army, which they sent in a previous attempt to conquer Possiltum.
Without his mentor's help, Skeeve must solve the problem of the Runaway King, protect himself from the ardor and the threat of the Killer Queen, and finally face the wrath of Don Bruce, the Mob's fairy godfather--who makes Skeeve an offer he can't refuse!
Excerpt
The Fairy Godfather...
"Wait a minute," Shai-ster said, holding up his hands. "This is so far beyond my negotiating parameters that even if I liked what I saw, I couldn't approve the deal. I need to bring one of the Big Boys in on this decision."
This was better than I had hoped. By the time he could bring one of the Mob's hierarchy to Possiltum, I could deal with some of my other problems.
"Fine. Go and fetch him. I'll hold the deal until your return."
The spokesman gave one of his tight-lipped smiles.
"No need to wait," he said. "My immediate superior is on call specifically for emergencies such as this."
Before I could frame a reply, he opened the front of his belt buckle and began rubbing it, all the while mumbling under his breath.
There was a quick flash of light, and an old, hairy-jowled man appeared in the room. Looking round, he spied the two bodyguards sprawled on the floor and gripped the sides of his face with his open hands in an exaggerated expression of horror.
"Mercy!" he wheezed in a voice so hoarse I could barely understand him. "Shai-ster, you bad boy. If there was trouble, you should have called me sooner. Oh, those poor, poor boys."
The Mob spokesman's face was once again blank and impassive as he addressed me.
"Skeeve, Lord Magician of Possiltum, let me introduce Don Bruce, the Mob's fairy godfather."
Copyright © 1983 by Robert Lynn Asprin
Reviews
There are currently no reviews for this novel. Be the first to submit one! You must be logged in to submit a review in the BookTrackr section above.
Images
No alternate cover images currently exist for this novel. Be the first to submit one!